elrow Halloween Haunted House
ELROW HALLOWEEN HAUNTED HOUSE

ELROW TO BRING BIGGEST INDOOR FESTIVAL TO SCOTLAND
FOR EDINBURGH DEBUT
12:00 – 23:00 | Saturday 28th October 2017 | Edinburgh
Sign-up for access to presale tickets and for the chance to win a huge elrow Halloween prize bundle: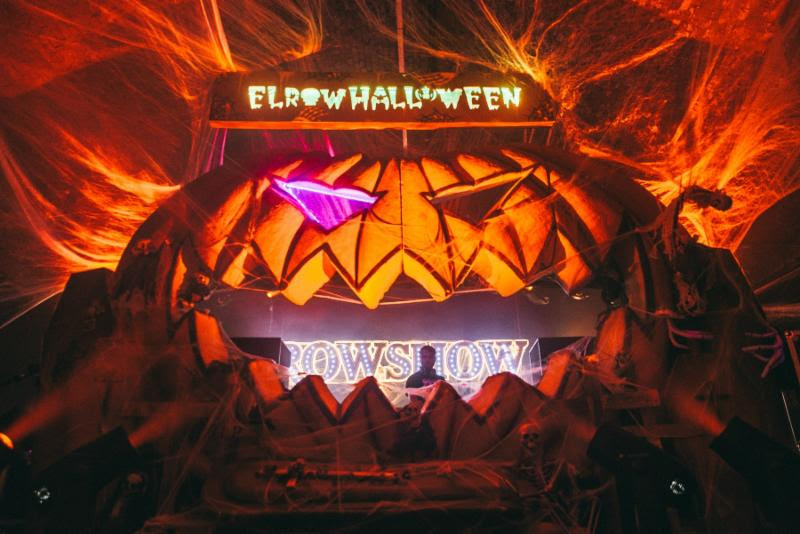 +++
As excitement reaches fever-pitch for their festival-scale show in London this weekend, elrow have announced they are bringing a huge indoor festival to Scotland for their debut in Edinburgh, as the location is revealed for elrow Halloween Haunted House on Saturday 28th October, now one of the UK's most anticipated Halloween events.
Putting a spooky twist on elrow's world-renowned, immersive production, elrow Halloween Haunted Housewill open a portal, unleashing a world of spooky spectres, bloodied beasts, ghastly ghouls and the strangest, scariest creatures imagined in the darkest of nightmares. Lose yourself in the wildest Halloween house as interactive performers, stilt-walkers and street theatre keep party-goers on their toes for a fright-night like no other.
Surprises will lurk behind every creaking door of this supernatural spectacular, whilst thick cobwebs will quiver with a bed of beats laid down by some of dance music's most prominent dancefloor aficionados. Expect a colossal lineup to be announced later this year.
Taking place at a massive, soon-to-be-revealed warehouse location from midday to 11pm, elrow Halloween Haunted House offers a full eleven hours of unmissable adventure as they show Edinburgh how to do Halloween elrow style.
Halloween at Warehouse Project, Manchester sold out in under 15 minutes and their recent Glasgow debut in March sold out in under 2 mins. Tickets for elrow Halloween Haunted House are also expected to sell fast.
Register for access to presale tickets, available on Thursday 24th August 2017 and for the chance to win 4 x VIP tickets, plus hotel and travel to attend elrow Halloween Haunted House: elrow-halloween.uk
+++
ELROW TOWN LONDON
SATURDAY 19TH AUGUST 2017 | QUEEN ELIZABETH OLYMPIC PARK, E20 2ST
>>
SOLD OUT
<<
ELROW TOWN LONDON – CLOSING CEREMONY
SUNDAY 20TH AUGUST 2017 | QUEEN ELIZABETH OLYMPIC PARK, E20 2ST
>>TICKETS ON SALE<<
ELROW HALLOWEEN HAUNTED HOUSE
SATURDAY 28TH OCTOBER | EDINBURGH, SCOTLAND
>>REGISTER FOR ACCESS TO PRESALE TICKETS<<
+++
ABOUT ELROW:
elrow is an award-winning experiential event concept and party series founded in 2010 by Cruz and Juan Arnau Lasierra; the sixth generation from a dynasty of entrepreneurs also responsible for creating Monegros Festival and legendary Club Florida 135 in Fraga, Spain. From their head-quarters in Barcelona, elrow have taken the world by storm with their unforgettable party style, pairing elaborate production, interactive performers and zany characters with the best electronic music, placing them as a global reference for circus inspired parties with tickets to the visual spectaculars usually selling out in minutes. A myriad of different themes and concepts makeup elrow's zeitgeist with sub-brands including 'Rowlympics'; their own take on the Olympic games, their Brazilian jungle carnival theme, 'Sambodromo de Brasil' and flag-ship theme 'Singermorning'.
With lauded residencies in Ibiza, Madrid, London and Amsterdam already in place, 2017 has seen a game-changing partnership with live entertainment platform, Providence-Superstruct, allowing elrow to push to new heights with a Shangai debut and a festival-scale event at the Queen Elizabeth Olympic Park in August.
+++
LINKS & FURTHER INFO
www.instagram.com/elrowofficial
SOCIAL:
For further press enquiries please contact:
RECENT POSTS
TEN CITIES : A Project From The Goethe Institute  Exploring Club Cultures In Africa And Europe.   MAIN PARTICIPATING ARTISTS:...

February 13, 2013

A Project From The Goethe Institute Exploring Club Cultures In Africa And Europe.  With the success of recent exchanges...

March 22, 2013