Junction 2 Announce The First Acts Playing Their 2-Day Festival In June
JUNCTION 2 ANNOUNCE THE FIRST ACTS PLAYING THEIR 2-DAY FESTIVAL IN JUNE
FRIDAY (DJs A-Z):
BICEP * DANIEL AVERY * DAPHNI * MOTOR CITY DRUM ENSEMBLE
CALL SUPER * JOB JOBSE * PEACH * SHANTI CELESTE
SATURDAY (DJs A-Z):
ADAM BEYER * JOSEPH CAPRIATI * MACEO PLEX * RICHIE HAWTIN
 DAX J * ETAPP KYLE * IDA ENGBERG * IMOGEN
Friday 7th and Saturday 8th June 2019 | Boston Manor Park
Credit: SHOTAWAY
+++
Junction 2 reveal the first acts for the 2-day festival at Boston Manor Park on Friday 7th and Saturday 8th June 2019. With a clear distinction between each day, Bicep, Daphni, Motor City Drum Ensemble and Daniel Avery are amongst the first headliners to be revealed for the recently announced Friday, with Richie Hawtin, Maceo Plex, Joseph Capriati and Adam Beyer set to play the Saturday.
Showcasing some of the most exciting acts to break through in recent years, as well as sought-after headliners, Friday will also see sets from Call Super, the producer who's 'The Present Tense' EP launched fabric's Houndstooth label. Stalwart of Amsterdam's underground scene Job Jobse will bring his infection and fun style to the show, whilst Midland's protégé Peach will deliver a high-octane performance to keep party-goers on their toes. Rounding-off Friday's programme is Shanti Celeste, a producer with an uplifting and melodic style that's seen a string of critically acclaimed releases.
Saturday's homage to techno inspired sounds welcome's acclaimed producer Dax J, founder of Berlin based label Monnom Black. Know for his production style that explores the spacial qualities of sound, Etapp Kyle will also take to the stage. Radar Radio host Imogen cuts seamlessly from techno to electro, always focused on the dancefloor. Making his J2 debut, Richie Hawtin make for exciting addition for 2019, while Maceo Plex sees a welcome return after his set at their 2017 edition was deemed a highlight of the show. J2 regulars Adam Beyer, Joseph Capriati and Ida Engberg will be back once again and know just what Junction 2's party goers want.
Setting the tone for next year's show, Junction 2 2019 is already shaping up to be their biggest and best year to date.
Pre-sale tickets to Junction 2 2019 will be  released on Thursday 1st November at 12pm. To gain access to these register at  www.junction2.london.
Junction 2 2019 press kit can be found here – Please use image credits provided: https://www.dropbox.com/sh/1mjmq4rr2gjorcs/AABENs5kvwBzUF_mvoCpOBDQa?dl=0
Junction 2 will be throwing a colossal day and night launch party at Tobacco Dock with Adam Beyer, Dixon, Åme, Rødhåd, Amalie Lens and more on Saturday 29th December 2018. Full details and tickets can be found here: http://www.lwe.events/events/junction-2-at-tobacco-dock
Junction 2 Launch Party – Night will be hosted at fabric with Adam Beyer + more TBA.
Tickets available from: https://www.tickettannoy.com/event/LtN6H_SMG0ue9CIIHyRXXQ?u=MAgsIODT8UK7G3tpXNr0SQ
Combo tickets available now for Tobacco Dock and fabric for £55.00+BF
*Subject to license
Official Junction 2 Aftermovie 2018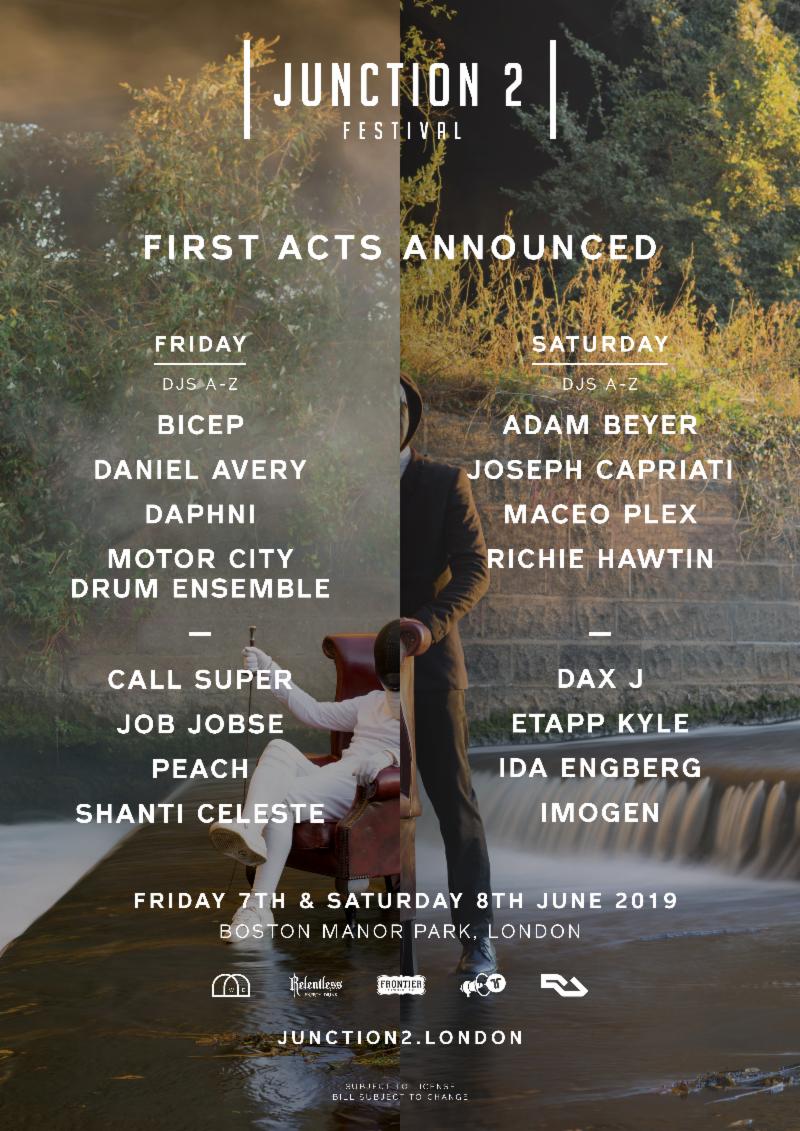 ABOUT JUNCTION 2
Junction 2 is an underground electronic music festival organised by LWE. It merges natural beauty, green fields, rambling rivers, woodland pathways and hidden enclaves – all dominated by striking industrial features that make the site iconic.Hosted at Boston Manor Park, under the M4 motorway, which dominates the site as one of five unique arenas which play host to the world's most in-demand electronic music artists. LWE's attention to detail is obvious across the site, with operational excellence, exceptional sound – the loudest in London.
Keeping the focus on quality music, the all-day dancefloor homage offers a vast spectrum of sonic textures.
RECENT POSTS
TEN CITIES : A Project From The Goethe Institute  Exploring Club Cultures In Africa And Europe.   MAIN PARTICIPATING ARTISTS:...

February 13, 2013

A Project From The Goethe Institute Exploring Club Cultures In Africa And Europe.  With the success of recent exchanges...

March 22, 2013