Printworks London - Debut Music Event Series Announced
NEW EXPERIMENTAL CULTURAL HUB, PRINTWORKS, 
ANNOUNCES FIRST ACTS FOR DEBUT MUSIC SERIES
WITH
ADAM BEYER | BEN KLOCK | DAPHNI
DOPPLEREFFEKT LIVE | JOY ORBISON | LOCO DICE
MARIBOU STATE (DJ) | MAX COOPER LIVE
MAYA JANE COLES | MOTOR CITY DRUM ENSEMBLE
NINA KRAVIZ | SETH TROXLER
PLUS MANY MORE…
ART. CULTURE. FASHION. MUSIC. FILM. FOOD.
1 Printworks, Surrey Quays Road,  
SE16 7PJ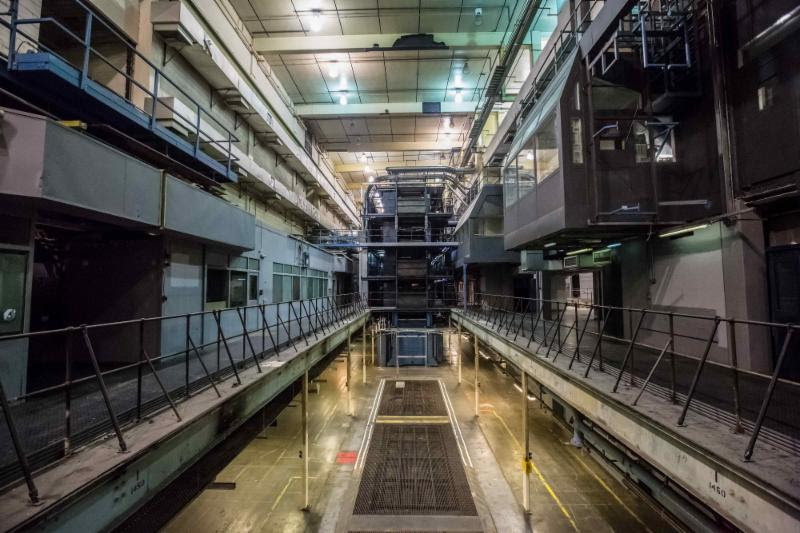 +++
"The Printworks is a venue unlike any other in the capital and I'm so excited about the launch of this innovative space. Thousands of Londoners will be able to enjoy experimental and captivating events here in the future and, thanks to the Night Tube, they won't have to worry about getting home from this part of the city. This is fabulous news for London's night time economy." – Night Czar, Amy Lamé
New temporary cultural destination, Printworks London announce details for their debut music series, celebrating the best electronic music from across the globe with a series of shows from midday to 10.30pm each Saturday, at the venue's stunning industrial Press Halls.
Housing the giant printing presses that once churned out the Metro and Evening Standard newspapers, the Press Halls are a fully soundproofed space, designed to contain the clatter of what was once Western Europe's largest print facility, keeping crowds on both sides of the wall happy.
Promising fully bespoke production, LWE and Broadwick Live will make the most of the Press Hall's rare potential, adding fully-fitted L'Acoustic and SB28 loudspeakers, designing an automated lighting truss that makes the most of the vast heights and installing over 100 lasers and spotlights to illuminate the dramatic industrial features.
Keen to become an integrated part of the local community, Printworks plan to minimise the impact on residents; in addition to the soundproofed main room, and daytime running hours, organisers plan to direct customers to and from nearby stations through signposted and steward-manned routes that take customers via a non-residential areas. Local SE16 residents will also benefit from 50 free balloted tickets to all ticketed events and a space within the venue dedicated entirely to community use.
Implementing a community ethos across all aspects of the project, Printworks' debut series will feature leading brands from the international circuit to deliver an exceptional and dynamic programme of events. Foremost amongst the partner brands are acclaimed promoters The Hydra, an integral part of London's underground music culture, responsible for some of the city's most exciting shows in recent years.
Other shows will be hosted by leading Berlin Techno label Klockworks and international heavy-weights Melt, whose experience of throwing their annual festival in a disused giant machine factory will lend itself perfectly to the industrial environment at Printworks.
With the opening party scheduled for Saturday 4th February 2017, Printworks will operate at a limited 2,500 capacity for the debut series, with full listings revealed on Wednesday 7th December 2016. Presale tickets will be available from 6pm on Thursday 8th December with general sale tickets available to purchase from midday on Friday 9th. For priority access to tickets, please register at: http://printworkslondon.co.uk
The team at Printworks are busy at work on a cultural calendar of events including food festivals, immersive theatre, orchestral concerts, exhibitions and more, with further details revealed at a later date.
The planning application for temporary use of the Printworks as a culture, music and arts space is currently under consideration by Southwark Council. If approved, events would take place from early 2017.
DEBUT SERIES TALENT (A-Z)
ADAM BEYER
ALAN FITZPATRICK
BEN KLOCK
BJARKI
BUTCH
CHRIS LIEBING
DAPHNI
DOPPLEREFFEKT LIVE
GOLD PANDA
HOT SINCE 82
JEREMY UNDERGROUND
JOY ORBISON
JULIA GOVOR
KIASMOS DJ
KIM ANN FOXMAN
DJ KOZE
LOCO DICE
LUKE VIBERT
LUCIANO
MARIBOU STATE DJ
THE MARTINEZ BROTHERS
MATHIAS KADEN
MATTHIAS TANZMANN
MAX COOPER LIVE
MAYA JANE COLES
MIND AGAINST
MOTOR CITY DRUM ENSEMBLE
NINA KRAVIZ
SETH TROXLER
WILLIAM DJOKO
ROOM 1 HOSTS:
THE HYDRA
KLOCKWORKS
MELT
KNEE DEEP IN SOUND
+++
NOTES TO EDITOR:
BROADWICK LIVE  is an international team of creative people based in London who, in partnership with Global Radio, own, create and produce a portfolio of award-winning festivals and events including Festival No.6, Field Day, Snowbombing, Boardmasters and Lost Village.
LWE is London's biggest independent electronic music promoter specialising in producing events in unusual locations. Exclusive music promoters at Tobacco Dock in Wapping, London and creative team behind the newly launched and hugely celebrated Junction 2 festival in West London.
THE VIBRATION GROUP is a collective of diverse, creative event businesses, specialising in venue management and ownership, production services and consumer facing event brands. The Vibration Group includes Xcite Venues, the company that manages and curates the event spaces at The Printworks.
USEFUL LINKS:
+++
LINKS & FURTHER INFORMATION:
LOCATION: 
1 Printworks
Surrey Quays Road
London SE16 7PJ
SOCIAL MEDIA:
RECENT POSTS
TEN CITIES : A Project From The Goethe Institute  Exploring Club Cultures In Africa And Europe.   MAIN PARTICIPATING ARTISTS:...

February 13, 2013

A Project From The Goethe Institute Exploring Club Cultures In Africa And Europe.  With the success of recent exchanges...

March 22, 2013